Welcome at Gutshof Itterbach
Menus
Delights from master hand
Be spoiled by our attentive team. Our standard and philosophy is to inspire you every time with visionary compositions and excellent wines.
Treat yourself to a break from everyday life and dive into an atmosphere which combines the standards of highest culinary art with cordial hospitality. An atmosphere that invites you to linger and return. The kitchen team of our house is a guarantor for creative and contemporary culinary art without frills. Our candlelit terrace offers a special setting for your dinner in the summer months.
For private or business functions we offer menu or buffet suggestions. We recommend corresponding wines from our wine menu. Please ask for more details.
Thank you for your visit.
Your Gutshof Itterbach - Team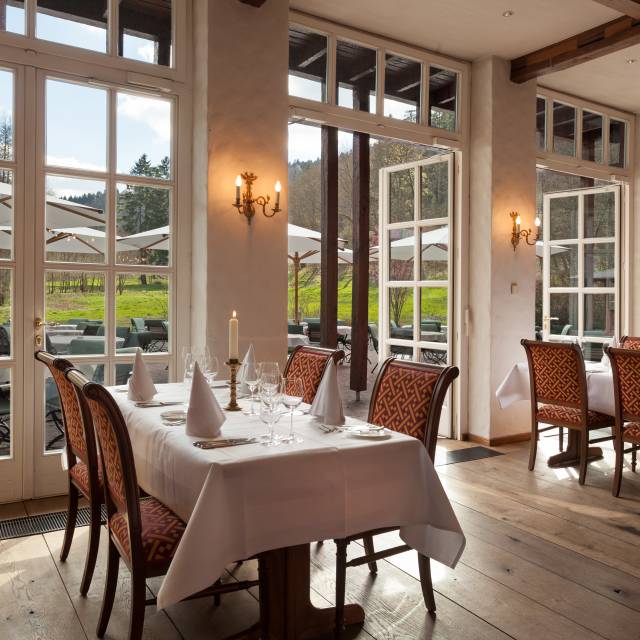 Opening hours
Wednesday to Friday from 14.00 clock
Saturday  from 12.00 clock
Sunday  from 10am to 6pm
Sunday morning from 10.00 to 14.00 Brunch
Sunday afternoon 15.00 to 17.00 Waffle feast
Mondays and Tuesdays Closed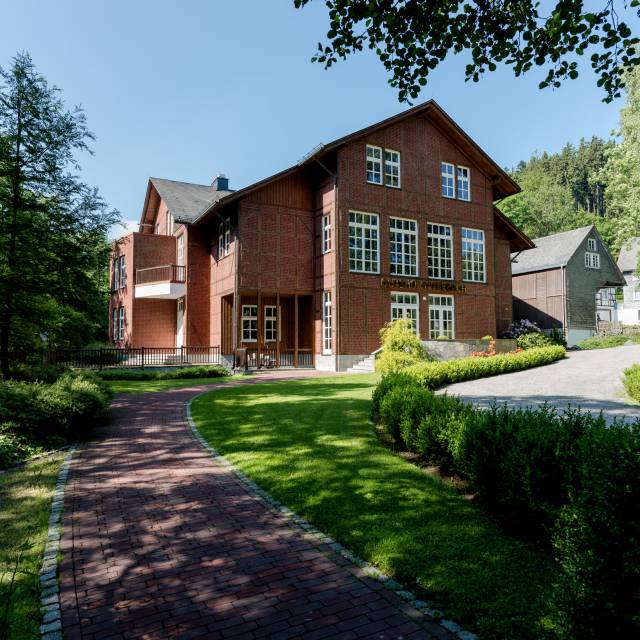 À la carte
Gutshof Itterbach - Gourmet Restaurant
SALAD / STARTER
"Good Life" salad
Crispy lettuce & wild herbs salad
Fresh goat cheese / pine nuts / tomato rarity 
Crispy croûtons / Avocado pineapple vinaigrette
€ 10,50
"Feel Good" salad
Crispy lettuce & wild herbs salad 
Grilled salmon / quail egg
Spicy croûtons / apple balsamico
€ 11,50
***
SOUP
Foam soup of Norway lobster 
Beetroot / green asparagus / Cantaloupe melon
€ 9,50
Calf bouillon with root vegetables 
Potato mushroom "strudel"
€ 9,50
***
BETWEEN DISH
Braised veal cheek 
Savoy / horseradish / celery
€ 14,50
Scottish salmon "Label Rouge" / lime oil 
Tagliatelle / Pak-Choi / vine tomato
€ 15,50
***
FISH / VENISON
Sea bass "Loup de Mer" / Prawn 
Wild broccoli / ginger carrot / Andes potato
€ 20,50
Venison & fawn 
Cranberry / parsley root / rolled mushroom slice
€ 24,50
MAIN DISHES
Beef burger "Regio Itterbach"
Grilled beef, bacon & organic cheese of the Upland region
Chili cucumber / olive tomato / romaine lettuce
Herb sour cream / Tropea onions / Brioche bun
€ 15,50
Wiener Schnitzel of veal escalope / wild cranberry
Potato salad / romaine lettuce / sour cream dressing
€ 19,50
Veal Medaillons
White mushrooms / Sauce Béarnaise
Pancetta beans / fried potatoes
€ 22,50
***
RODEO STEAKS
Rump steak Argentina
The hearty peace on the cattle back 
180 g / € 15,50
250 g / € 20,50
Rib-Eye Steak Ireland
Piece of the high rib of the bovine
Perfectly matured & juicy tender
180 g / € 16,50
250 g / € 21,50
Beef fillet steak New Zealand
The most delicate piece of the loins musculature
Perfectly matured & juicy tender 
180 g / € 21,50
250 g / € 27,00
Served with herb butter, Chimichurri or Sherryglace.
How do you like your steak the most?
Very rare
Only seared briefly & dark red
Rare
Bloody inside & almost raw
Medium rare
Inside bloody & red
Medium
Pink inside
Medium well
Inside still slightly pink
Well done
Inside well done
Choose your supplements:
Grilled vegetables          
Green beans
Salad plate
Rosemary sea salt potato
Steakhouse french fries
Gratin dauphinois
Each supplement € 3,00
***
DESSERT
Birne Helene "Gutshof Style"
Poppy cream / pear ragout / Amaranth cumble / vanilla icecream
 € 9,50
Selection of French raw milk cheese
of Maître Affineur V. Waltmann
Fruit mustard / grape nut bread
€ 9,00