Welcome at Gutshof Itterbach
Menus
Delights from master hand
Be spoiled by our attentive team. Our standard and philosophy is to inspire you every time with visionary compositions and excellent wines.
Treat yourself to a break from everyday life and dive into an atmosphere which combines the standards of highest culinary art with cordial hospitality. An atmosphere that invites you to linger and return. The kitchen team of our house is a guarantor for creative and contemporary culinary art without frills. Our candlelit terrace offers a special setting for your dinner in the summer months.
For private or business functions we offer menu or buffet suggestions. We recommend corresponding wines from our wine menu. Please ask for more details.
Thank you for your visit.
Your Gutshof Itterbach - Team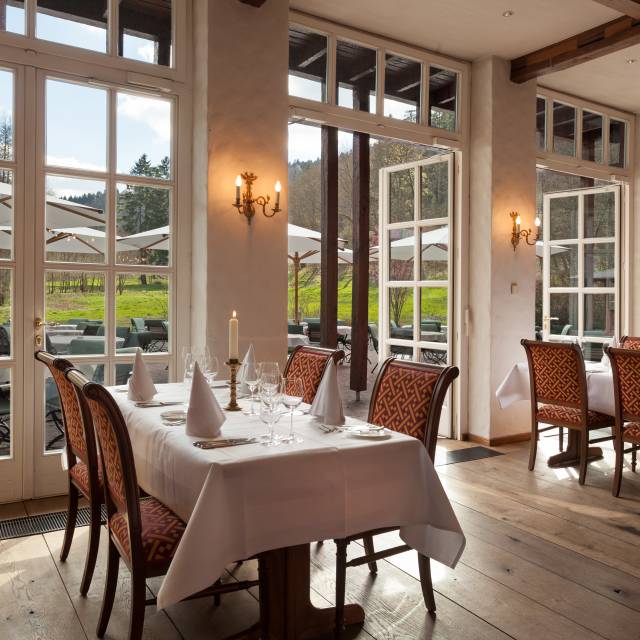 Opening hours
Friday from 6.00 pm to 10.00 pm
Saturday from 2.00 pm to 10.00 pm
Sunday from 10.00 am to 9.00 pm
Sunday morning from 10.00 am to 2.00 pm Brunch
Monday to Thursday Closed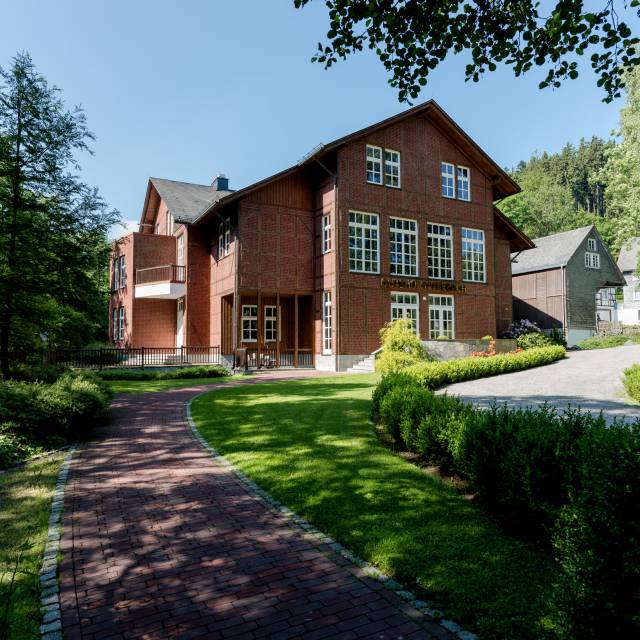 À la carte
Gutshof Itterbach - Gourmet Restaurant
SALAD / STARTER
Colored salad bowl
Crispy lettuce & wild herbs salad
Radish / cucumber & tomato / croûtons 
Herbs sour vinaigrette
€ 8,50
"Good Life" Italian Salad
Romaine lettuce / Rocket / Mozzarella & Tomato
Sesame seeds / Basil / Bruschetta
Blossom honey mustard vinaigrette
€ 13,50
"Feel Good" winter salad
Colorful leaf salads / Avocado / Cashew nuts / mango
Sprouts / Spring onions & croûtons / Herbal oil dressing
Choose from
Label rouge salmon | Asia chicken or grilled beef
€ 15,50
***
SOUP 
Pepper tomate soup
Beef filet skewer / spicy salsa
Vegetable tarte
€ 11,00
***
MAIN DISHES
Pure Beef Burger "Itterbach"
Salad / tomato / onions / grilled pepper
Crispy grilled bacon / cheddar
Homemade burger sauce
€ 15,50
Roasted brook trout & Wasabi white wine sauce
Wild broccoli / ginger carrot / violet potato
€ 21,50
Wiener Schnitzel of veal escalope / wild cranberry
Potato salad / romaine lettuce / sour cream dressing
€ 21,50
Veal Medaillons
White mushrooms / Sauce Béarnaise
Pancetta beans / fried potatoes
€ 24,50
Saddle of venison & fawn medaillons
Mountain ash / herbs king oyster mushrooms / Curry cabbage
Parsley root potato thaler
€ 27,50
***
RODEO STEAKS
Rump steak Argentina
The hearty peace on the cattle back 
180 g / € 17,50
250 g / € 22,50
Rib-Eye Steak Ireland
Piece of the high rib of the bovine
Perfectly matured & juicy tender
180 g / € 18,50
250 g / € 23,50
Beef fillet steak New Zealand
The most delicate piece of the loins musculature
Perfectly matured & juicy tender 
180 g / € 26,00
250 g / € 31,50
Served with herb butter, Chimichurri or Sherryglace.
How do you like your steak the most?
Very rare
Only seared briefly & dark red
Rare
Bloody inside & almost raw
Medium rare
Inside bloody & red
Medium
Pink inside
Medium well
Inside still slightly pink
Well done
Inside well done
Choose your supplements:
Grilled vegetables          
Green beans
Salad plate
Rosemary sea salt potato
Steakhouse french fries
Gratin dauphinois
Each supplement € 6,00
***
DESSERT
Affogato al Caffè
Sour cherry crumble / tonka bean mousse
 € 9,50
Selection of French raw milk cheese
of Maitre Affineur Waltmann
Fig mustard / grape nut bread
€ 9,50